Description
Our purpose is simple: to inspire honest, healthy living and nurture a greater awareness for saving our bees! That is why our all natural propolis spray is made with high quality propolis (95% extract!) that is sustainably hand-harvested by experienced beekeepers in Canada.
One of our core values is to practice, share and promote sustainable beekeeping. What exactly does that mean? We put the bees first in the process of making our products and want our bees and customers alike to thrive so we ensure that our bees are healthy, in safe locations and we never over harvest leaving our bees with plenty of honey, pollen and propolis of their own.
Through our partnership with the Canadian Honey Council and creating a platform for education and awareness regarding the plight of the bees, we feel that with your help, we can really make a difference!
---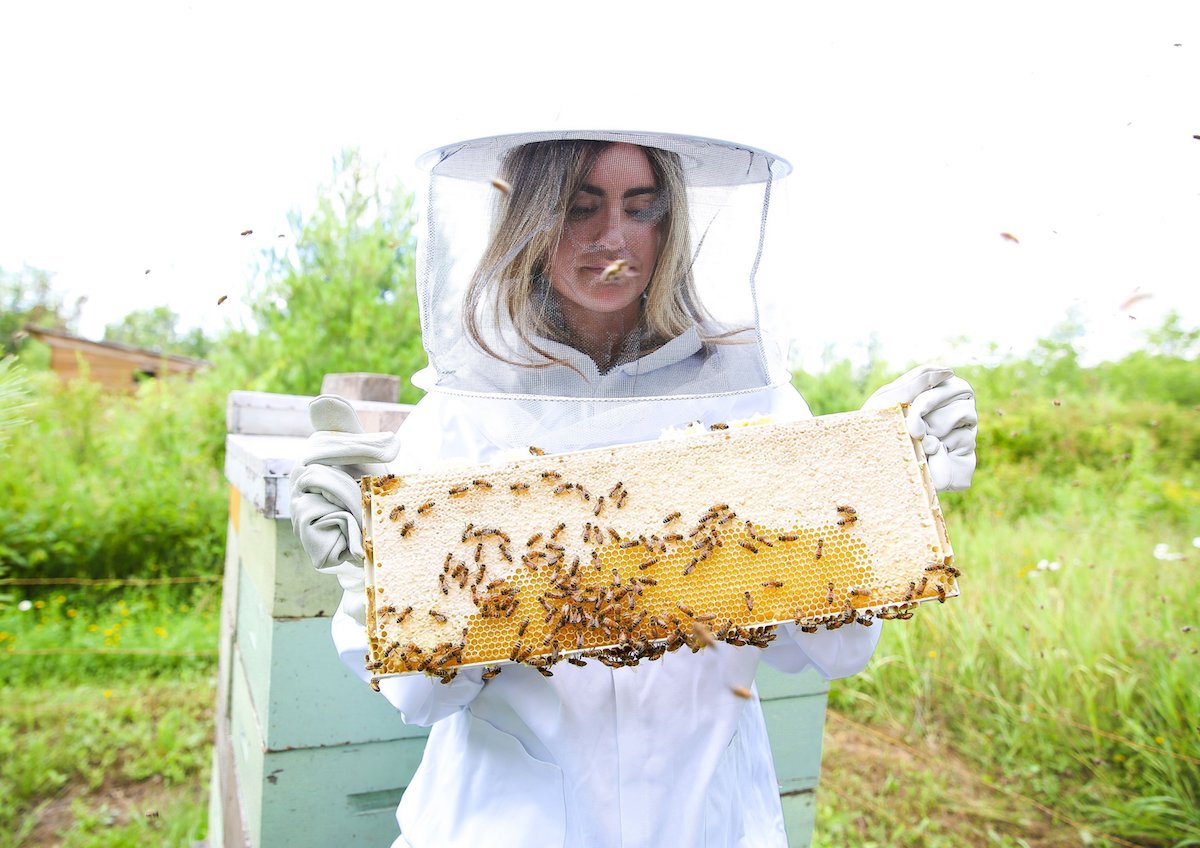 Carly's Story
For Carly ,it all started with a semester abroad in Europe. Four months of sightseeing and wine drinking finally caught up with her in Florence, where her tonsils ballooned to the size of a meatball. Facing the prospect of cutting her trip short for surgery, she desperately searched for a less extreme solution.
With her chipmunk cheeks filled with gelato (her stop-gap remedy of choice), she stumbled across an Italian pharmacy full of wonderful bee products. She somehow managed—between her swollen mouth and broken Italian—to communicate her symptoms to the pharmacist, and he suggested propolis. Skeptical, but willing to try anything, Carly forked over €7 and squeezed a few drops. Within days, her tonsillitis was in retreat and she was taking in the art at the Uffizi Gallery.
After a wonderful propolis-fuelled trip Carly said 'au revoir' to Europe and returned home to finish her final year of university. But within a few months Carly's tonsils flared up again and surgery was looking unavoidable. This time she knew what she needed. Unable to find bee propolis on the shelves of her local health food stores and pharmacies, Carly had to dig deep to find her secret weapon. She sought out a local beekeeper to learn more about everything bees and beekeeping and what the bees have to offer.
This little expedition sparked a passion. Two years later with her tonsils intact, Carly is running Beekeeper's Naturals and hopes to share propolis and all of its benefits with North America. Our first product is—you guessed it—a propolis spray, created with students, professionals, parents, and anyone with a busy lifestyle in mind.
Carly is also a tireless advocate for the preservation of the waning global bee population and, through Beekeepers, supports the protection of hives across North America. Her mission is to improve the health of bees and humans alike.
"I like natural things. I like hiking and getting lost in nature and I like my foods and health remedies without chemicals. But I had a dilemma: where do I find natural health products that actually work?
My inspiration for creating Beekeeper's Naturals came about organically. I wasn't planning to start a company, I was simply looking for a natural health product that actually delivered. In that quest, I encountered all of the newest magical health elixirs but ended up spending a lot of money on ineffective health-store powders, or over-the-counter synthetic immune boosters that temporarily dampened my symptoms but never got rid of them.
Science is amazing. It can cure horrible diseases, cancers and disabilities. But what about your sore throat or stubborn cold? At Beekeeper's we love science – we use science to formulate and test our products obsessively. But we also think Mother Nature is pretty incredible. Bees are nature's consummate workers and the ultimate team players. Thinking back now, it should have been obvious that bees were the answer. Bees naturally produce propolis to protect themselves and their hives from bacteria. You can think of propolis as the immune system of the hive and a key factor in overall hive health. Bee propolis is nature's ultimate protector, showing powerful healing properties for bees and luckily us humans too! It's a must for anyone leading an active lifestyle and who hates getting sick. It's simple. It's natural. And it works. At Beekeeper's Naturals, we are dedicated to sustainably sharing the world of "beegan" superfoods with you to keep you functioning at your best."
Carly – Founder of Beekeeper's Naturals
Beekeeper's Naturals is KETO Certified by the Paleo Foundation.
---