Jones Dairy Farm: Breakfast Meats
You can't have breakfast without breakfast sausage.
Breakfast sausage is our signature product at Jones Dairy Farm. We use the same ingredients that Milo Jones used more than 128 years ago when he started the company—pork, water, salt and spices. The result is an array of all-natural, Certified Gluten-Free breakfast sausage links, patties and roll sausage that have become a staple on breakfast tables throughout the country.
Whether you use ​sausage in a recipe or serve it on it's own, Jones pork, turkey and chicken sausage links and patties are sure to make your ​day better.  We never compromise, so you don't have to either.
We promise to be different.
Different than big companies that cut corners to save money. For more than 128 years, we've been doing what's right. We promise to always prioritize the quality of our products and the satisfaction of our customers.
A History of Great Taste
We've been doing things the right way for more than 128 years. In 1889, we started sharing Jones family breakfast sausage with the world, and we're still using that same recipe today.
Antibiotic-free and No Sugar
Our all-new line of no antibiotics ever sausage, ham and Canadian Bacon delivers full, great-tasting flavor without the sugar. Whether you're looking for paleo-friendly foods or just trying to make better choices, Jones can provide you with the clean labels you need—and the flavor you want.
Description
Keto Certified Jones Dairy Farm
Jones Dairy Farm is a six-generation family owned and operated business that was founded by Milo Jones in Fort Atkinson, Wisconsin.  For 128 years, Jones has created quality breakfast meats from that same location, starting with their signature All Natural Breakfast Sausage made from a cherished family recipe. 
The company's mission is to continue its heritage of being family owned while providing distinctive quality products manufactured with world class food and workplace safety standards.  Product innovation and unparalleled customer service are our cornerstones for growth.
Jones Dairy Farm remains committed to making only the best tasting, highest quality breakfast sausage available on the market today. That's why the company still makes their sausage in small batches and personally tastes each one.  Jones Sausage gets its flavor from a spice blend that is made in-house by people who test each ingredient for quality. The Jones family adheres to a strict set of rules in everything they do. When it comes to making sausage, that means they will never compromise or cut corners. They will never sacrifice the safety of their customers and they won't do what's easy—they'll do what's right.
The company uses only all-natural ingredients in its Jones Sausage. It's a family rule they've followed since 1889. They refuse to use MSG, nitrates, nitrites or fillers, and all of their sausage is Certified Gluten-Free.  And because Jones Sausage is all natural and preservative free, it's always found in the grocers' freezer section.  To keep the Jones Sausage as fresh as possible, they need to keep it frozen.  Jones Sausage is available in several fully cooked and ready to cook varieties including pork, turkey and chicken links and patties.  Recently, Jones launched a line of Antibiotic Free, No Sugar, All Natural Sausage that has been Certified Paleo and Keto Certified by the Paleo Foundation.
Although best known for their all natural sausage, the Jones family also produces an extended line of products made with simple ingredients including dry-aged bacon, naturally smoked ham and Canadian bacon, turkey bacon, Braunschweiger and scrapple.   Philip Jones, the sixth generation president of the company and great-great grandson of Company Founder Milo Jones, leads Jones Dairy Farm.   Philip knows the food industry well.  He is a professionally trained chef and was recently the third member of the Jones family to be inducted into the Wisconsin Industry Meat Hall of Fame.
The Jones Dairy Farm success story is not only based on providing consistent quality to generations of loyal customers but a strong entrepreneurial spirit that keeps the company moving forward.  Since inception, the company has seen many milestone achievements, including:
Becoming the first meat packaging company to quick freeze sausage in the 1920s, facilitating shipping throughout the U.S. and abroad without chemicals or preservatives.
Launching a line of fully cooked breakfast sausage, one of the first of its kind, in 1986.
Introducing one of the first "light" breakfast sausage products in 1988.
Becoming one of the first red meat companies to operate a modern bacteriological laboratory on site to monitor and test for food safety.
Taking the proactive step to have more than 200 products certified gluten free by the Gluten-Free Certification Organization. Jones also became a proud supporter of the Celiac Disease Foundation to help raise awareness of celiac disease and expand the food choices of individuals following the gluten-free lifestyle.
Beyond its commitment to delivering quality products, Jones Dairy Farm has a deep tradition of community involvement and philanthropy, and has taken a lead role in cultivating the future generations of talented chefs and foodservice professionals.  In 2006, the company established an endowed scholarship at the Culinary Institute of America. The scholarship provides substantial tuition assistance to students seeking their Bachelor of Professional Studies degree in culinary arts management.  In their home state, Jones is the proud sponsor of Wisconsin's first and only culinary theatre at Fox Valley Technical College, and the Jones Dairy Farm Advanced Culinary Lab at Madison College.
If you'd like to learn more about Jones Dairy Farm and where you can buy Jones Sausage and other delicious products, check out the company website at www.jonesdairyfarm.com.  For even more information and recipes, follow Jones on social media through Facebook, Twitter, Pinterest, YouTube and Instagram.
---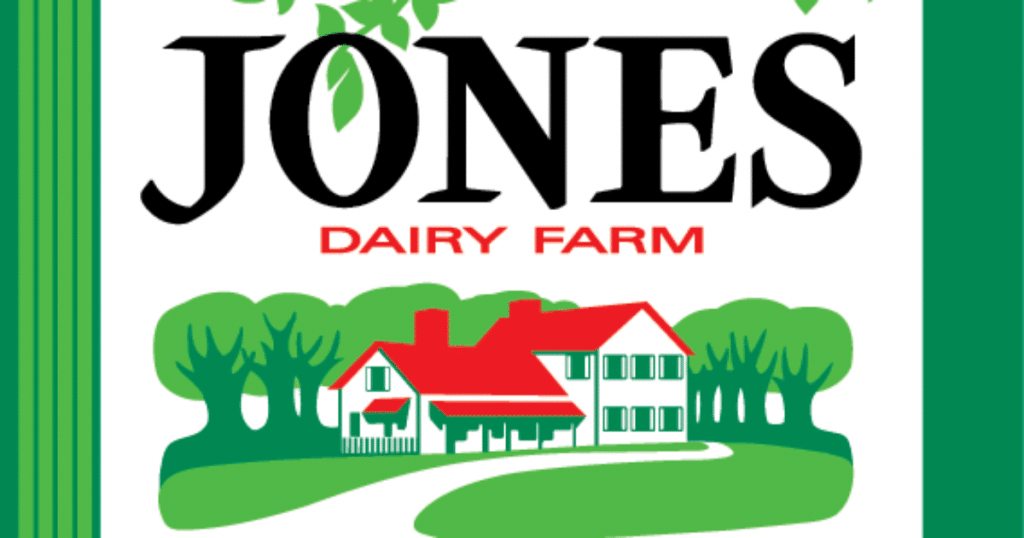 Website
1