Primal Kitchen Foods
PRIMAL KITCHEN™ Mayo takes us back to our primal roots—pure, nutritious, real food ingredients with no artificial colors or preservatives.  It's the first ever avocado oil-based mayo, made with cage-free organic eggs and vinegar from non-GMO beets whipped into that full, rich classic mayo taste you love. Because avocado oil boosts the bioavailability of nutrients it's paired with; you increase your body's absorption of antioxidants whenever you add a dab of Primal Kitchen Mayo. And our mayo is sugar, gluten, dairy, soy and canola-oil free, and non-GMO Project Verified so you can indulge to your taste buds delight. Healthy mayo, who knew?
PRIMAL KITCHEN™ Chipotle Lime Mayo. Craving mayo with a kick? It's time to try our Chipotle Lime Mayo, a spicier version of our classic mayo. Phenomenal taste, sugar-free, non-GMO project verified, organic lime zest plus organic chipotle powder, garlic and chives make the perfect dipping sauce and flavoring agent. At PRIMAL KITCHEN™, our philosophy is simple: every bite of food you eat should be both delicious and healthful. Mark created PRIMAL KITCHEN™ because in the world of real-food eating, veggies and meat can become pretty dull without sauces. Most contain harmful fats, sugars and artificial ingredients for "taste." Well, we're doing things differently here: no more sacrificing flavor for health—and no offensive ingredients allowed! We're on a mission to make healthy eating easy and exciting, so we've created the world's best-tasting, nutrient-dense sauces and dressings.
PRIMAL KITCHEN™ Avocado Oil
Made from the soft green flesh of premium avocados.
Creamy and Rich with a Naturally Buttery, Slightly Nutty Taste
Suitable for High-Heat Cooking
First Pressed (not 2nd or 3rd), Cold Pressed and then Centrifuge Extracted
Non-GMO Project Verified
Certified Paleo
Grain Free Gluten Free
Whole30 Approved
Ingredients: Avocado Oil
500 ml Bottle
Description
Keto Certified Primal Kitchen
Uncompromisingly delicious and nutrient-dense, Primal Kitchen condiments, dressings/marinades, avocado oils, protein bars and protein shakes are full of heart-healthy, natural fats and ingredients rich in antioxidants, vitamins and minerals. And, our high-protein, low-sugar bars are beneficial for hair, skin, nails and joints with 15 grams of protein from collagen, nuts and seeds, and only 3 grams of sugar from honey. Primal Kitchen made avocado oil famous via their innovative, heart healthy avocado oil mayonnaise and salad dressings. Primal Kitchen is a Keto Certified Brand to watch in 2019.
Shop for yours at the Primal Kitchen store.
---
Founder Mark Sisson
Mark Sisson, bestselling author, media personality, ex-endurance athlete with a 2:18 marathon and 4th place Hawaii Ironman finish, founded Primal Kitchen in 2015. He has been educating the world on nutrition and the benefits of healthy fat and high-quality protein for the last decade via his blog, MarksDailyApple.com which happens to be one of the internet's most popular health blogs. Mark set out to create the world's best-tasting, real-food staples, starting with a mayonnaise made with avocado oil. Primal Kitchen continues to deliver on its promise of uncompromisingly delicious, beneficial foods that are always dairy, gluten, grain, soy free, full of beneficial fats and high-quality protein. As Mark would say, Eat like your life depends on it, because it does.
---
Primal Kitchen Foods Story
After achieving new heights of wellness and vitality through real-food eating, Mark Sisson set out to create the world's best-tasting, real-food pantry staples, starting with a mayonnaise made with avocado oil. Today, with a full suite of products, Primal Kitchen® delivers on its promise of uncompromisingly delicious condiments, dressings/marinades, avocado oils, protein bars, collagen protein powder and bars, and whey protein that are full of beneficial, natural fats, clean protein and the highest quality ingredients.
Primal Kitchen products are unlike any others that you'll find in the grocery store. The entire collection aims to exquisitely satiate while also packing nutritious ingredients—like avocado oil, collagen, oil of oregano and apple cider vinegar—that are free of dairy, gluten, grain, refined sugar and soy.
---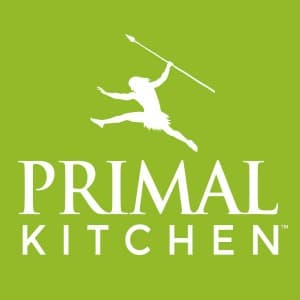 .