Description
Keto Certified SuperFat Nut Butters
We embrace fat and we think you should too. As the founders of SuperFat we aren't just nut fans, we are world travelers, entrepreneurs, and fitness enthusiasts who tried nearly every diet in hopes of finding reliable fuel for optimal performance in life. It wasn't until we created SuperFat that we found something that tasted great, provided optimal performance, and a boost of on-demand energy wherever we went. We knew we were on to something great and SuperFat was born.
We often get the question, "Why SuperFat taste so amazing?" The answer is in our quality, non-gmo ingredients, without the use of fillers. We believe in dispelling myths and optimizing nutrition based on science and results. Whether your diet is keto, paleo, vegan, plant based, vegetarian, or a combination of them all, there's no denying that everyone needs fat in their diet. Our approach in creating a better nut butter is to incorporate real ingredients that taste great and offer a superior fuel source for whatever your day brings. As an all-natural product SuperFat is free of sugar or artificial sweeteners and refined or processed carbohydrates. Unlike so many other nut butters out there which are loaded with filler, sugar or low quality, cheap nuts, or totally oily and horrible to consume, we offer quality fats, convenient packaging and amazing flavors combined with functional ingredients.
If you're gearing up for a 5K or a career-changing board meeting, we've got you covered. We are in the business of making what you eat match the lifestyle you lead, and that starts with ensuring each and every ingredient we source is all natural and functional.
We take pride in our manufacturing and quality control processes to ensure you are enjoying the best-tasting, freshest product possible. Keto and Paleo approved, vegan and gluten-free with no sugar added, we are committed to functional ingredients for nutritional and health benefits. This is anything but your typical nut butter pouch. It's a truly amazing way to set yourself up for a healthy day!
SuperFat Nut Butters are KETO Certified by the Paleo Foundation.
---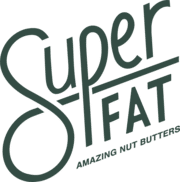 Facebook