Silver Fern Farms
We believe our grass-fed, premium quality red meat is the best in the world. From our farmers in the paddock to our graders and butchers in the plant – our people are the best practitioners of their craft, applying skill and expertise from pasture to plate to produce the best tasting, premium quality red meat.
Our natural, minimally processed cuts are hand-selected to deliver consistency and a premium quality eating experience to consumers every time.
Description
Taste the Difference of New Zealand Grass-Fed
Grass-fed means something different in New Zealand. This little island of ours has the ideal conditions for grass-based farming; fertile soils, good amounts of sun and rain, a temperate climate, fresh air, and clean water.
Fresh, lush, rolling green hills and pastures. This is where our farmers raise their animals, free to roam and graze as nature intended, promoting better animal welfare. A diet of nutrient-rich grass produces natural marbling and gives a finer, more delicate texture in the meat.
The result is the finest quality, delicious, grass-fed red meat.
Our grass-based farming method means our beef and lamb packs carry the following product guarantees: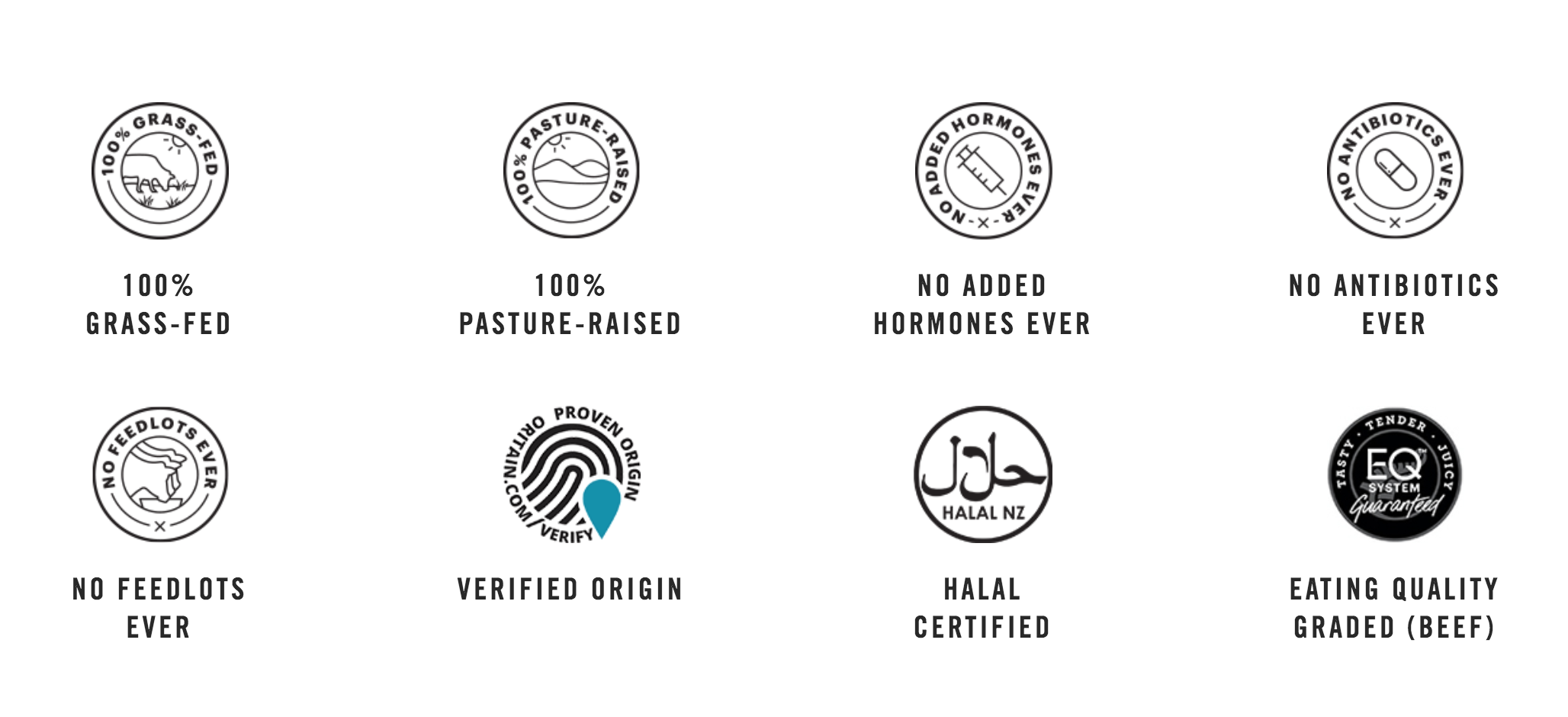 About Silver Fern Farms
Founded in 1948, Silver Fern Farms is New Zealand's leading procurer, processor, marketer and exporter of premium quality lamb, beef and venison.
We care deeply about doing the right thing and doing it well, striving every day to be the world's most successful and sustainable grass-fed red meat company.
Our 'plate-to-pasture' strategy is how we make it happen – focusing first on identifying consumer needs, and then working with our farmers to grow animals and apply our expertise to meet those needs.

We are a company of proud, passionate farmers and food people, dedicated to doing the right thing, collaborating and innovating, and always creating inspirational food for our customers.
At every step in the journey from pasture to plate, the highest level of care is taken to make sure our red meat is the very best it can be.
About Our Farmers
Our expert Silver Fern Farmers, guardians of our land and environment, are committed
 to raising animals with care and respect.
Natural resources and an abundance of rainwater are utilized by our farmers to grow nutrient-rich grass. Our farmers use rotational grazing and low intensity, regenerative farming practices to optimize livestock growth with the natural grass-growth curve.
Silver Fern Farms is KETO Certified by the Paleo Foundation.
---