The Healthy Crunch Company
Eating whole, real food, makes you feel good inside and out.
In our humble opinion, The Healthy Crunch Company makes the best artisanal snacks on the planet.
Our School Approved ® crunchy snacks are peanut-free, gluten-free, dairy-free and Non-GMO project verified!
Our mission is to provide satisfying, healthy snacks that fuel the body, mind and soul.
Happy Crunching!
Description
Founder & Chief Crunching Officer

Julie's love of snacking is unlike any we've seen in others. A spirited entrepreneur and total go-getter, she's always on the move.

To keep up her energy, she fuels herself with high-vibe snacks, chaga tea and, of course, coconut chips. It's the Registered Dietitian in her as well as the fact that she's a trained chef that makes her love kale. But it was her dismal discovery, several years ago, that there wasn't a single tasty kale chip on the market that led her to this endeavour of developing her own line of chips. And boy, we're glad she did!

When Julie is not running the show at The Healthy Crunch Company, she's cooking up a storm, collecting cookbooks, travelling the world, keeping active or hanging out with the Crunch Pups. Julie has a warmth, kindness and generosity that make her a great colleague to have. She's fun, open and genuinely strives to create a happy, healthy work environment.

Julie is a fan of all our deliciously crunchy flavours. She says "it's hard to pick a favourite". But if we peeked into her fridge at any given time, we'd find avocados, lemons/limes, cilantro, cholula hot sauce original and spinach. In Julie's words, "Popeye was right! Spinach keeps my body strong and happy."
---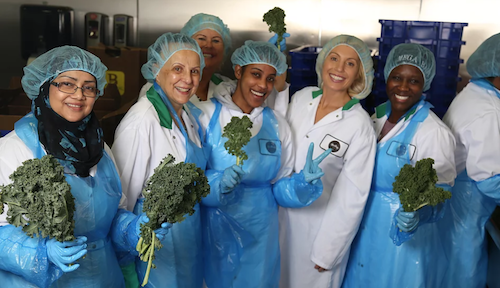 Our Kitchen Team
We love spending our days with people who are passionate about real, healthy food and making a difference in the snack world.

If you love kale and have Healthy Cruncher qualities (or Crunch Ambassador or something else) such as a creative spirit, a go-getter attitude, can tell a good story, love engaging with people, and you want to be part of something special, we want to hear from you!
For employment and/or volunteer enquiries, please contact us at careers@healthycrunch.com
Healthy Crunch is KETO Certified by the Paleo Foundation.
---